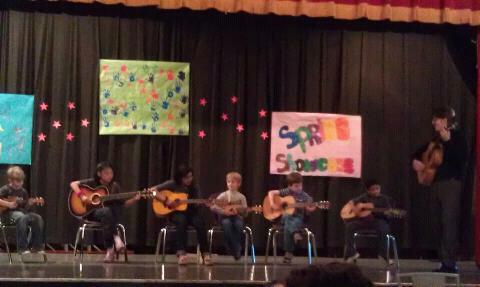 Teaching Services:
Guitar(Classical, Rock/Metal, Folk, Jazz, Flamenco, Fingerstyle, Blues)
Electric Bass
Ukulele
Music Theory
Composition
Teaching Philosophy:
"Teaching is one of my passions.  To share the beautifully intimate, yet powerful, qualities of the guitar with students who are willing to learn and work hard is endlessly rewarding.  Each student has their own learning style and my first task is always to discover what that might be to get the best out of each lesson.  I strive to be the most effective yet enjoyable teacher I can be and have gone out of my way to take extensive training as a music teacher so that my students may come to love music as I do.  Whether your aspirations are to attend a music college, be a professional instrumentalist or just play music as a hobby, I am always thrilled to share what I've learned."
~Brandon J. Acker
Testimony from student:
"As an adult student of the guitar, I am very focused on getting value for both my time and money.
I have been working with Brandon for six months and have been increasingly thrilled with the experience I am having. Learning something as complex as classical guitar is not easy, but whenever I feel discouraged by the challenge, Brandon has revived me with his love of playing this instrument. Most good music educators (and there are a lot of them) can teach notes, chords, frets, fingering, and theory. What I appreciate about Brandon is his passion, his opinions, his thoughtfulness about this instrument. He won't just tell you how to practice fingering–he will apply his interest in cognition, behavior and anatomy to the issue at hand (no pun intended).
If you want a music educator who will engage, challenge, and, above all, keep you motivated to persevere, please call Brandon. He will be your guide (and amusing companion!) through a wonderful adventure in the land of music."
~Jessica Jolly.  Evanston, IL
Credentials:  -Bachelor of Music from DePaul University
-Masters in Music from Northwestern University
-Guitar instructor at The People's Music School-Uptown Academy
-Class Guitar instructor at Skinner North Classical Elementary School (Grades 1-4)
–Classical Guitar instructor at Hogeye Music in Evanston.
-Co-Director of two Classical Guitar Workshops at The Peoples Music School in Chicago